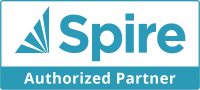 Spire ERP – Simple, Clean and Modern
Spire from Spire Systems is modern business software for small and medium businesses, especially distribution, light manufacturing and service.
Ease of Use
Getting information out
Lists can be searched and filtered, and columns can be rearranged per user, and then exported to Excel. Crystal Reports are also available, with many built in and the ability to add as many custom reports as you need.
Entering transactions
Most operations can be handled entirely from one screen. For example, the Sales Order screen includes a tab showing the customer's order history. The user can ship and invoice the order right from Order Entry, as well as see item details on any line item.
Data Management
Spire uses PostgreSQL, a robust open source database, which allows it to scale up users and volume without issues. The Spire Server install even sets it up along with a backup schedule for you.
Spire includes a powerful API to enable integration with other applications.